Using Artificial Intelligence (AI), Yazi learns how you learn in order to provide support along a lifetime of learning.
From the age of 3, Yazi has you covered with support for children's school subjects in several curricula (IB, Cambridge etc) to adult curricula for skills enhancement and career movement.
How Does It Work
We use a verified network of tutors and mentors who are available to meet your learning needs when you need them and are available. In the Yazi Academy, a tutor is someone who teaches a particular subject or area of study, while a mentor is someone who guides one to achieve a particular skill. Depending on your needs at whatever stage of life, Yazi will partner with you to maximize your learning thereby enhancing your productivity. What are you waiting for? Join the Yazi Academy and take the reins of your learning journey!
Tutors and Mentors
What's the difference?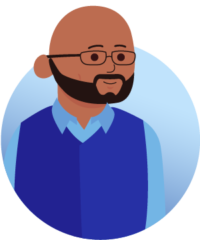 Mentor
A Mentor is a trusted counselor who advises another beyond academics to develop into a successful professional.
Sample topics covered by Mentors
Tutor
A Tutor is someone who assists with learning a new process or concept (academic) in a private or small group interaction.
Sample topics covered by Tutors
Check out our Yazi STEAM Courses
Get Started on our Yazi Mobile App or by navigating to one of our STEAM course pages below. Once your desired course is selected and paid for, the Yazi Customer Services Team will contact you to deliver your STEAM Kit to your desired location. Classes are virtual and happen three times a week on Tuesdays, Thursdays, and Saturdays. Your kit includes everything you will need for the class, except the computer/tablet needed to join. Your designated Yazi Guide will provide you with the necessary meeting links and serve as your coach during the learning sessions. Please contact us with any questions you may have @ +1888-823-YAZI or ‭+233-302-789-621‬ or cs@yaziacademy.com Thank you, and see you in class soon!